06-02-2019
Faces of farming highlight the opportunity for agriculture post-Brexit
In a series of interviews published today, UK scientists and experts have warned of the "barrier to innovation" facing British farming following the European Court of Justice's ruling affecting gene editing, but also highlighted the opportunity Brexit represents for the UK to spur innovation.
The four in-depth interviews with those on the country's agricultural frontline, cover subjects as wide-ranging as the impact of rising temperatures and the challenge of engaging an increasingly urban population in where their food comes from. The site also discusses ideas for meeting current challenges.
Their comments echo the findings of a report authored by independent expert Graham Brookes last year, which found that the EU crop biotechnology regulatory system has already contributed to a significant loss of high value-added research scientist jobs and has left the UK subject to a crop trait research and development 'gap'. The paper concluded that the potential long-term benefits to the UK economy are likely to be highest if the UK sets its own path on EU crop biotechnology based on sound science, consistent with the regulatory systems operating in most other countries of the world.
Mark Buckingham, Chair of the Agricultural Biotechnology Council said: "We are delighted to launch this collection of interviews with some of the leading lights in British farming. As they set out, there are many challenges facing the agriculture and food production sector, and technology and innovation will be key to addressing them. It's clear that Brexit represents a moment of opportunity, and that there could be tremendous potential benefits to the UK setting its own path on techniques such as editing individual genes in crops. A reset of agricultural policy to ensure that regulation rests on science is critical if we are to meet the challenges of the future."
Click here to see the full press release. You can read the complete interviews here.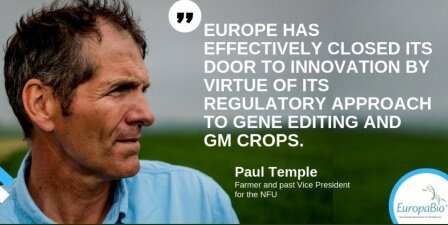 Click to download